Help students learn to analyze and resolve real-world policy and business problems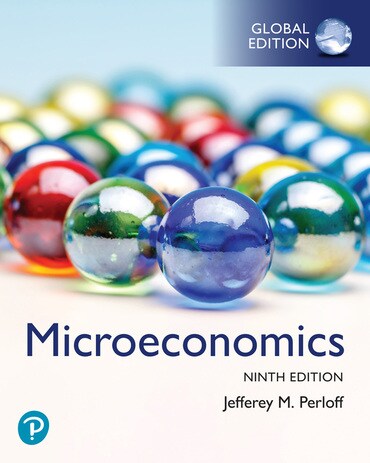 With an emphasis on modern theories that are useful in analyzing actual markets, Perloff's latest Microeconomics offers a step-by-step approach to problem-based learning and helps higher education students develop the skills to solve business problems and analyze policy.
New and updated content includes:
New sections: Common Confusion, Thinking Critically About a Current Event, Interactive Figures, Spreadsheet Exercises and Review Questions.
Exploration of government policies, international climate agreements and income tax.
Microeconomic theory explained through real-world people, companies and data.
142 Challenges – information and questions about important, current real-world issues.
A step-by-step model for working out qualitative and quantitative problems.
Coverage of the latest economic events to keep students in the know.
Explore other Economics subject texts
Request your sample copy today by emailing asktheHEteam.middleeast@pearson.com with the ISBN 9781292446448 and providing your contact details.
Enriching your students' learning journey
MyLab Economics provides flexible, scalable and easy to personalize digital tools, so your learners are always engaged and in the right place to build the professional skills they will need for the workplace. And MyLab supports your teaching too, with online assessments and data that lets you know how students are doing, as they go. With this world-leading digital learning platform, you can decide what to teach and how best to teach it. 
Learn more about MyLab Economics
Top tips for using MyLab Economics 
How MyLab enhances your teaching and class results:
Build your own assignments and coursework with its fully integrated homework system.
Explore MyLab's flexibility that lets you develop your own assignments, teach multiple sections, or set prerequisites.
Discover the extensive bank of questions tailored to the content of the book –  including algorithmic, graphing, multi-step and case study problems.
Create your own formative and summative assignments to fit the needs of your course.
Use MyLab Economics' robust gradebook to track progress and give your students automatic feedback.
Benefit from trusted content that will enhance your students' learning experience, from theory to practice.
Your students benefit from:
Personalized learning that guides them to understand the exact areas where they need practice and enables them to learn at their own pace.
Tailored study plans that identify areas to focus on, build their confidence and improve their grades.
The Grapher learning aid within questions – giving them regular practice working with graphs and visualizing possible answers.
Regularly updated news articles and real economic scenarios in MyLab's Economic Experiments, that encourage their active learning and engagement.
Start the digital transformation of your course today
We hope that you'll choose Perloff with the interactive digital tools of MyLab for your next microeconomics course.
We're here to help you integrate our engaging digital content and assessment tools into your next Economics course – ask your Pearson representative for more information.