Pearson hosts its second webinars series on #TheNewNormal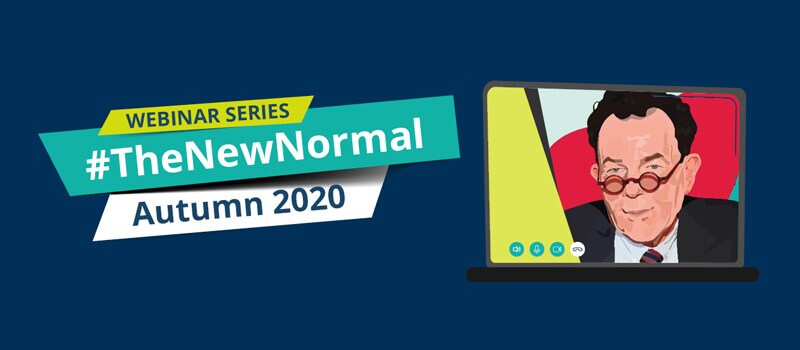 Six live webinars to discuss the opportunities
and challenges facing the education industry and beyond in #TheNewNormal
Pearson, the world's learning company, announced the program for its second webinar series comprising of six interactive, live sessions for educators across the Middle East and beyond. To address the unprecedented impact of Covid-19 on schools, Pearson will bring together leaders from the education industry in the Middle East and other countries globally, including Sheika Hind Al Mualla, Board Member, Chief of Creativity, Happiness and Innovation at KHDA, Dubai.
The free-to-attend, live, interactive webinars will examine the challenges and opportunities that lie ahead for the education industry, how to navigate this time and plan for re-entry and beyond. Educators will find powerful strategies to help them overcome the persistent challenges in education as a result of Covid-19 and to provide equitable learning experiences for all students.
Pearson recently revealed the findings of their second annual Global Learner Survey, capturing the opinions and views of learners worldwide, in which three out of every four learners globally say the COVID-19 pandemic has fundamentally changed education. The survey participants also agreed that Covid-19 provided a catalyst for modernizing education, with 88% respondents in favor of online learning being part of children's education experience in primary, secondary and higher education.
Emma Whale, Vice President – Schools, Pearson Middle East commented, "In the past few months, we have witnessed that educational institutions have quickly and responsibly adapted to the learning challenges in the midst of a pandemic. Due to the overwhelming success of the first series of #TheNewNormal by Pearson, we are pleased to announce the details of the second webinar series which will specifically address the changing landscape of education across the region and aim to support teachers and school leaders with strategies and solutions to improve resilience in the education industry in the years ahead."According to the Global Learner Survey, 66% respondents appreciated the heroic efforts taken by educational institutions during the outbreak of Covid-19 believing they did a good job adapting to the needs of students with remarkable innovation to support learning and teaching.
The six-webinar series includes:
Schools in #TheNewNormal: How was it for you?, 22 September, 7:30 pm GST (experts: Janecke Aarnaes, Director – Universal American School, Dubai; Kieron Peacock, Retired Headmaster – The English School, Kuwait; Dr Arunabh Singh, Director – Nehru World School, India; Dr Mary Ashun, Principal – Ghana International School, Ghana). The principals' panel will reveal the lessons that have already been learned and consider what school in the 'new normal' looks like and how will it lead us forward into a better future.
Re-imagining childhood in #TheNewNormal, 29 September, 7:30 pm GST (experts: Eric Abrams, Chief Inclusion Officer – Stanford University Graduate School of Education, USA; Crispin Evans, Consultant, Teacher, Senior Leader and Lecturer, UK; Gillian Walnes Perry MBE, Co-founder and Honorary Vice President – Anne Frank Trust, UK; Professor Carla Rinaldi, President – Fondazione Reggio Children, Italy). Topic: In the world of Covid-19 almost all of education discussions seem to have focused on systems, structures and schooling, this session will focus on reimagining childhood.
Teaching and the curriculum straight jacket – How well do we know our children? 06 October, 7:30 pm GST (experts: Helenor Gilmour, Director of Insight – Beano Studios, UK; Neil Pinder, Teacher of the Year and Co-founder of Celebrating Architecture, UK; Jayne Cooper, Artist in Residence – Arbourthorne Community Primary School, UK; Mario Herrera, EFL/ESL Author & Teacher, Mexico). Topic: In excess of 1.5 billion children have not been to school for 3 months or more in 2020 and #TheNewNormal is focusing heavily on how much schooling children have missed and how much they have fallen behind. The panellists in this session will speak about whether this is the right time to press 'pause' and 're-set' and to devise a curriculum that is based on the children, their profiles and how well we know their potential. 
The role of NGOs and business in the future of education, 13 October, 07:30 pm GST (experts: Stavros Yiannouka, CEO – Wise, Qatar; Asheesh Advani, CEO – JA Worldwide, USA; Emilio Munaro, VP Global Development & Communication – Instituto Ayrton Senna, Brazil; Thandeka Tutu, Director – TutuDesk Campaign, RSA). Topic: The future of education is not the sole prerogative of national governments; real innovation, change and social justice affecting the lives of children are delivered by partnerships involving NGOs and businesses. Is this the new, and the best way, in #TheNewNormal? 
STEM Education in #TheNewNormal: What's all the fuss? 20 October, 07:30 pm GST  (experts: Iain Hennessey, Clinical Director of Innovation and Paediatric Surgeon – Alderhey Children's Hospital, UK; Mark Levesley, Research Scientist and Science Education Author, UK; Thanbeer Kaur, Senior Educator – Ministry of Education, Malaysia; Dr Rana Dajani, Molecular Biologist and Associate Professor – Hashemite University, Jordan). Topic: STEM education seems to have taken on a role of even greater significance during the Covid-19 period and into #TheNewNormal. The session will ask 'How important is STEM education to the real world?'.
Education 2030: Who are the teachers? 27 October, 07:30 pm GST (experts: Sheika Hind Al Mualla, Board Member, Chief of Creativity, Happiness and Innovation – KHDA, Dubai; Rose Clesham, Director of Academic Standards and Measurement, Pearson, UK; Nick Richardson, CEO, The Insights People, UK; Vikas Pota, Honorary Lecturer – UCL Institute of Education & former CEO – Varkey Foundation, UK; Rosan Bosch, Founder and Creative Director – Rosan Bosch Studio, Denmark). Topic: What the new balance is like between online and offline schooling and what implications this has for the teaching professions. The essence of the matter may well be to ask ourselves who our new teachers are and what their jobs look like.
The webinars will be hosted by Professor Dr Ger Graus OBE, Global Director of Education for KidZania, who will be joined by experts from the education sector and beyond to discuss the current state of the industry, lessons learnt and what the future may look like. In #TheNewNormal series of live interactive webinars, Professor Dr Graus will speak to a renowned group of scholars and leaders to discuss the effects of this pandemic on education in the Middle East and globally and extrapolate the new normal in education post Covid-19. 
Professor Dr Graus said: I am looking forward to series 2. Much has changed since the first series in May. We need to consider increasingly that every child is everyone's responsibility and the wide variety of panellists reflects this. I am excited to find out what is going on out there in education terms and how much we can press the re-set button. I am looking forward to the stories that will make us think. Many thanks to Pearson for making all this happen."
Aiming to generate thought-provoking discussions and innovative ways to improve education outcomes during and after Covid in schools, #TheNewNormal webinars by Pearson are designed to support schools and educational institutions in the UAE and across the Middle East region at this challenging time.
For further information about the webinars, please visit: #TheNewNormal webinar series by Pearson, Autumn 2020
Online Coverage
Edarabia | Mena FN (En) | Mena FN (Ar) | UAE News 24/7 | Al Press | UAE News 4 U | Middle East Events | Dubai News | Dubai Lifestyle news