Give students the knowledge and tools to succeed in marketing environments with updated text.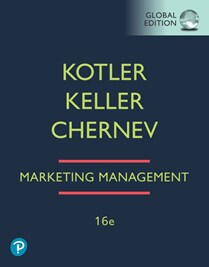 The latest edition of Marketing Management by Kotler, Keller and Chernev features updated material and examples to give your students access to the very latest market developments.
New and updated content includes:
In-text examples illustrating key concepts – from Starbucks, Uniqlo and others. 
Marketing Insight boxes aiding student understanding of the topic, including a new one on 'Managing the Price Image of a Retailer'.
Marketing Spotlight boxes – using relevant real-world examples with questions to confirm understanding and apply critical thinking. Companies featured include Alibaba, Uber and Airbnb.
Marketing in Action Mini Cases – highlighting innovative and insightful marketing campaigns from leading organizations.
Boosting student engagement for better results.

With MyLab Marketing, your students get precisely what you need for them to succeed: immersive content, tools and exercises that are personalized, customizable and always engaging. These scaleable features boost student engagement and are uniquely suited to help you measure learning outcomes and tailor your course to ensure even better results.

Learn more about MyLab Marketing

Instructors use MyLab for parity between online and face-to-face course material

Texas A&M University, USA piloted MyLab Marketing to help them ensure that students received the same quality and quantity of assignments and assessments for both online and face-to-face sections of their courses. This would result in parity of experience across formats.

They found that 85% of students scoring above average on MyLab assignments earned an A as their average quiz grade. Students who passed MyLab quizzes also earned higher final course grades. An end-of-semester student survey showed 90% agreed that with MyLab Mini Sims, (with real-world examples) they could apply course concepts to actual business challenges.
Average MyLab quiz letter grade based on MyLab assignment scores:

Explore other Marketing subject texts (PDF)

Request your sample copy today by emailing asktheHEteam.middleeast@pearson.com with the ISBN 9781292404813 and providing your contact details.

We hope that you'll choose Kotler, Keller & Chernev and MyLab Marketing for your next course.