Pearson's 2018 Schools Conference paves the way in STEM education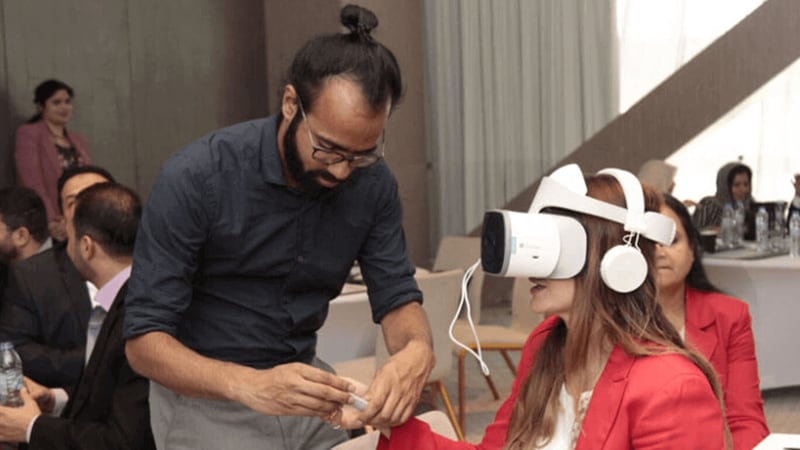 Dubai, UAE - Pearson Middle East welcomed more than 200 professionals from educational departments and schools from across the UAE to discuss future-oriented education in the fields of Science, Technology, Engineering and Mathematics (STEM).
The "Discover STEM" schools conference 2018 took place over two days at the Five Hotel, Palm Jumeirah Dubai and explored the different teaching strategies to encourage students to continue their studies in STEM.
The two-day conference included in-depth research presentations, professional conversations about best practice, engaging panel discussions, and practical workshops across both UK and US curricula enabling delegates to explore and develop new ideas about integrated STEM education to help prepare students for higher education and future employment.
Some of the impressive line-up of speakers included:
- Dr.Rana Dajani, the world-renowned influential female Arab scientist, internationally recognised by UNESCO, who provided a keynote discussion on a STEM education that matters;
- Deborah Herridge, International Science Bug Author, who discussed different ways to engage students and support children's ability to think scientifically and make progress in Science;
- Mark Levesley, Exploring Science Author, who addressed– the S in STEM and looked at the core STEM skills;
- David Albon, who worked on a number of projects specialising in the needs of English Medium/EAL education. At the conference, Albon did an overview of the iPrimary and iLowerSecondary (iPLS) programmes and looked at why Computing is important in the primary and lower secondary levels;
- Kathryn Booth, Head of Academic Qualifications, Pearson Middle East, who provided an overview of Pearson Edexcel's academic qualifications in STEM as well as how to deliver mathematics within science; strategies for school maths and science departments
- Mike Padilla, Interactive Science and Elevate Science Author, who addressed problem-solving and scientific thinking in the science curriculum;
- Maaroof Fakhri and Ainara Lopez from Labster, conducted an interactive discussion on using virtual labs within the STEM curriculum in UAE and Saudi Arabia; and
- Saki Milton, US Curriculum Expert with more than 20 years in the education industry¸ who explored how to extend Maths and Science learning beyond the classroom, at both Elementary and High-School levels.
Kathryn Booth, Head of Academic Qualifications for Pearson Middle East commented, "We chose the STEM theme to fit with the UAE 2021 vision, where innovation, research, science and technology will form the pillars of a knowledge-based, highly productive and competitive economy. We're living in a tech-obsessed world that demands innovation and STEM-literacy, more than ever before. The conference is a testament of our commitment to continue investing in professional development across the region. It aims to bridge the gender diversity gaps sometimes found in STEM-related industries while equipping students with the knowledge and skills to succeed in a new information-based and highly technological society".
Dr. Rana Dajani, the world-renowned female Arab scientist and an advocate for science education added, "It is important to expose our younger generation to STEM in Education and equip them with important skills needed to help them succeed in their careers. STEM education creates critical thinkers, increases science literacy, and enables the next generation of innovators. This type of learning is very hands-on, and skill based and requires students to do things with their hands to discover specific knowledge or to develop particular skills."
According to the U.S. Department of Commerce, STEM occupations are growing at 17%, while other occupations are growing at 9.8%. Global rankings reveal there is a lot to be done in the UAE to support young people to achieve success and to realise the UAE's 2021 vision.
The 2012 rankings indicate that UAE's share of low achievers in mathematics (Below Level 2) was 46.3%, more than double the rate for the United Kingdom (21.8%). Experts in education and government agree that science, technology, engineering and maths (STEM) subjects are vital to our continued economic well-being. Yet, only a few students select these subjects. 
As the UAE encourages a national innovation strategy with the growth of the education sector playing a vital role, Pearson Middle East believes that its time to shift old mindsets and bring in new concepts in learning that will drive innovation across the board.
The World Economic Forum's Future of Jobs analysis found that, compared to 2015, 21% of core skills required across all occupations will be different by 2020 in the GCC. This was further supported when LinkedIn's UAE Economic Graph 2017 found that robotics, 3D printing and the Internet of Things are the main skill-clusters driving innovation in the emirates.
The UAE, with its focus on innovation and future-readiness, is creating the perfect landscape to entrench STEM into everyday life. "Career choices for young graduates in the UAE are now more inclined towards STEM fields, which could eventually bridge the supply-demand gap in the job market," added Kathryn Booth.
The "Discover STEM" schools conference 2018 focused on emerging technologies and new methods and systems of teaching to increase achievement. Attendees were involved in discussions on the latest educational technologies from experts who use them, and were involved in workshops that explored an international level in the world of teaching with technology.
Following a successful conference in the UAE, Pearson ME will also be hosting the STEM education conference for education professionals in KSA, Jordan, Qatar, Kuwait and Oman.
Online Coverage