If you missed a webinar you'd really hoped to attend, why not catch up by watching a recording?
Faculty Share their Experiences with Digital Learning
Featured webinar
#InItTogether with GUST University Faculty
25 March 2020
During this webinar, various esteemed faculty members from GUST University share their best practices. The focus is around Math and English.
Faculty: Ms. Anwar Al Zayer, M.S., Ms. Milena Baeff, M.S., M.Ed, Shiny Verghese, PhD and Ms. Heba Elhadary, M.Ed TESL
Play
Expert Insight
Featured webinar
#InItTogether 9 strategies for effective online teaching
08 April 2020
Nine strategies based on research that will help set you and your students up for success in your newly online course, presented by Samuel Downs.
Play
#InItTogether Enhance your students' soft skills
30 March 2020
Pearson's Student Success Program highlights the crucial skills required for today's workplace. It helps students lead a successful university life. In this webinar you will learn about the possible ways to:
- Gain insights about your students' strengths and weakness in terms of skills
- Develop their academic success
- Help them develop the skills that employers are looking for
Play
Distance Learning Tools and Techniques
Featured webinar
#InItTogether Assessment – methods to mitigate cheating in distance  learning
30 March 2020
A common concern among professors using online Assessment systems is the fear that students will copy answers from one another and/or from online sources. Copying homework (as well as cheating on exams) has been a part of education since before computers or online programs existed.
In this webinar we explore different methods to help mitigate and reduce this cheating phenomenon (using Pearson MyLab & Mastering).
Play
MyLab Programs for Math, Business and IT
Featured webinar
#InItTogether How MyLabIT supports your move to online teaching
14 April 2020
How do I get students to apply what they've learned in a meaningful way?
I need a course solution that is easy to use: 
How can my course help students gain the skills they need for their future careers?
Play
Mastering Programs for Science and Engineering
Featured webinar
#InItTogether How to engage students with online physics games & simulation experiments
21 April 2020

Motivate Students – Help students connect physics to the real world using the Mastering Physics platform.
PhET tutorials use the interactive research-based simulations from the PhET Group at the University of Colorado, Boulder to help students make connections between real-life phenomena and the underlying physics.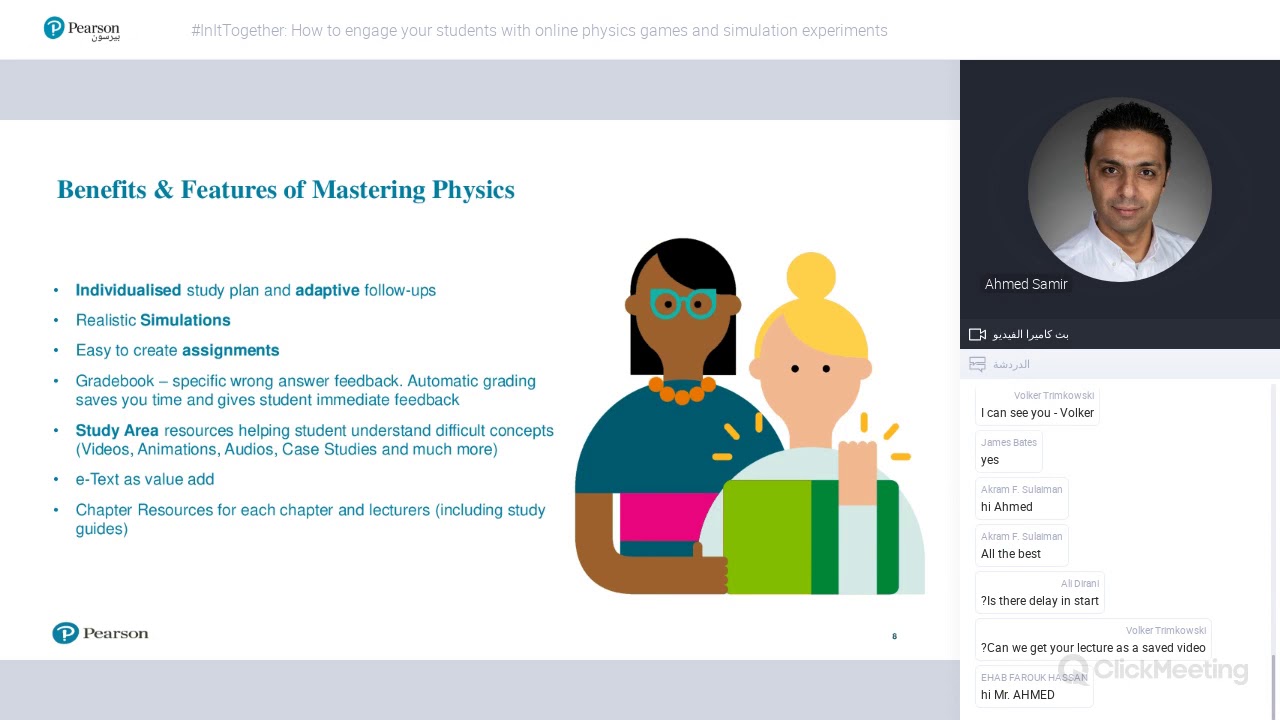 Play