Helping HE students sharpen their Business Communication skills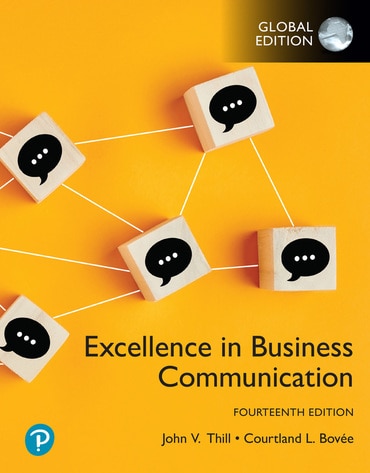 Featuring practical advice, time-tested processes and real-world examples, Excellence in Business Communication (by John Thill and Courtland Bovee) will help your higher education students hone and develop essential communication skills.
New and updated content includes:
The latest business communication concepts and techniques – the role of communication in DEI, effective online meetings and collaboration and new developments in intelligent communication technology.
'On-the-Job' vignettes and simulations – demonstrating how professionals apply essential skills.
Communications exercises from real companies – discussing how they were delivered and how the messages could be improved.
Practice opportunities with writing and editing fundamentals for business English – exercises to improve grammar, mechanics and usage.
Realistic exercises, activities and cases – helping students practice the communication skills they've been building.
Explore other Business Communication subject texts
Request your sample copy today by emailing asktheHEteam.middleeast@pearson.com with the ISBN 9781292450117 and providing your contact details.
Building essential skills for business success
Create courses that best fit the unique needs of your curriculum and your students with digital tools that activate and engage learners. MyLab's online assessments and data tell you how students are doing, as they go, so you can decide what to teach and how best to teach it.
Learn more about MyLab Business Communication
Top tips for using MyLab Business Communication
To embed the learning principles of this text, MyLab has digital resources that will really engage your higher education students and also support you, including:
Interactive quizzes that provide timely student feedback and address learning gaps.
Real-world Communication Mini Sims – across digital, social and traditional written media – help students edit and improve their business writing, step-by-step.
Decision-Making Mini Sims that put students in business professional roles to practice and apply course concepts as they make choices about real business challenges.
Video Assignments with accompanying assessment questions.
Dynamic Study Modules that test existing knowledge and identify topics and concepts that learners need to review.
AI-assisted and auto-graded writing prompts allow educators to integrate critical thinking exercises without significantly adding to their grading tasks.
Start the digital transformation of your course today
We hope that you'll choose Excellence in Business Communication with the interactive digital tools of MyLab Business Communication for your next course.
We're here to help you integrate our engaging digital content and assessment tools into your next Business Communications course – ask your Pearson representative for more information.