Definitive textbook, now with Revel for extra student learning support and success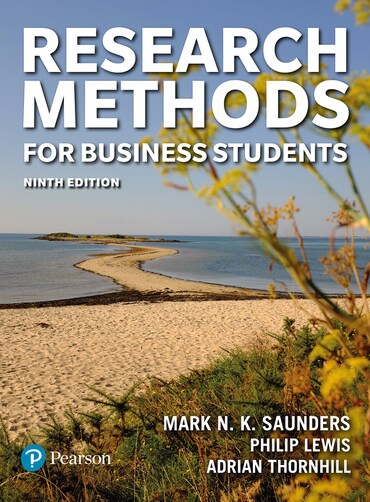 The latest Research Methods for Business Students by Saunders, Lewis & Thornhill offers a clear explanation of theory and concepts that will enable your higher education Business, Marketing and Management students to conduct effective research-led projects or dissertations.
With a new focus on Diversity and Inclusion, this updated edition:
Provides insights on how to draft a critical literature review.
Considers sustainability, internet-mediated access and ethical use of purchased data lists.
Evaluates interview practices and the use of visual methods.
Discusses transcription and qualitative data analysis.
Has updated case studies from across the world, from public finance, manufacturing, services and film.
Reflects on the impact of COVID-19 on research methods – including the shift from face-to-face interviews to online and telephone interviews.
Request your sample copy today by emailing asktheHEteam.middleeast@pearson.com with the ISBN 9781292402727 and providing your contact details.
Explore other Management subject texts
Embedding learning with regular feedback
This edition of Methods for Business Students by Saunders, Lewis & Thornhill is supported by Revel and is packed with active learning features, designed to encourage students to test their subject understanding as they progress through the text. With Revel, students read and practice in one place, with interactive content and assessments integrated throughout the text to provide opportunities for them to explore and apply concepts.
Key Revel multimedia active learning features, that specifically support this text, will help students:
Tap into a wide range of videos, audio clips and articles – each with an open-response activity, to help them learn through doing.
Apply what they have learned to their own research project to build a full proposal by the end of the module with the Progressing Your Research Project Builder.
Practice manipulating, analyzing and reporting data with downloadable Excel data sets.
Understand more about their own research philosophy and how it affects their research project by taking the Heightening Awareness of Research Philosophy (HARP) online survey.
Access audio recordings by students who share the valuable practice tips, tricks and lessons they learned while doing their own research projects.
Revel helps you set the pace of learning for students on a week-by-week basis and, because it gives them immediate feedback, it enables you to keep track of any students who need a little more support and to adapt and vary your classes accordingly. 
Start the digital transformation of your course today
We hope that you'll choose Saunders with the bespoke active learning tools of Revel for your next research methods course.
We're here to help you integrate our engaging digital content and assessment tools into your teaching – ask your Pearson representative for more information.