Increase students' conceptual understanding of chemistry with popular text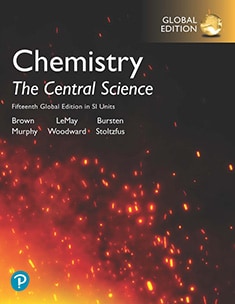 Embed an understanding of the concepts of chemistry and help students achieve greater success in the subject with 15th edition of Chemistry: The Central Science by Brown, LeMay et al.
New content includes:
An overview of hydrocarbons advanced applications and biological processes. 
Interactive Sample Exercises are linked to Practice Questions enhanced with feedback.
Ready-to-Go Modules in Mastering Chemistry (see below) help instructors introduce concepts to students. 
Updated section-opening text and images – enhances understanding of concepts, key inventions and discoveries. 
Updated End-of-section Exercises and Self-Assessment Exercises. 
Helping students master key concepts, build problem-solving skills and improve results
Mastering Chemistry has pre-built courses and assignments to get you started quickly. A powerful gradebook with analytics, and a range of other flexible, online tools help you give tailored feedback, identify where your students need more support and reach each one, wherever they are in their learning journey.
Learn more about Mastering Chemistry

Around the world instructors see positive learning outcomes with Mastering Chemistry 
Instructors at Miami Dade College, USA adopted Mastering Chemistry and found that students performing above average on Mastering homework had significantly higher final exam scores than those that performed at or below average.
Average final exam scores based on Mastering Chemistry quiz score and number of AFU extra credit points earned: 

Figure 1. MC ≤83% ( n =23); MC >83% ( n =40); AFU Extra Credit Points ≤6 ( n =35); AFU Extra Credit Points >6 ( n =28); Spring 2018
Those who earned more points on optional Adaptive Follow-Up assignments had a significantly higher final exam average than the students who earned fewer points. Learners reported that doing the Dynamic Study Modules before class helped them understand lectures and Learning Catalytics offered a fun way to learn.
Explore other chemistry subject texts (PDF)
Request your sample copy today by emailing asktheHEteam.middleeast@pearson.com with the ISBN 9781292407616 and providing your contact details.
We hope that you'll choose Chemistry: The Central Science and Mastering Chemistry for your next course.