More support for efficient studying with updated Anatomy & Physiology text
Students will study more efficiently for A&P tests using the tips and tools in latest edition of popular text.

Support your students' active learning, review, practice and preparation for quizzes and tests in Anatomy & Physiology. The latest edition of Essentials of Human Anatomy & Physiology by Marieb & Keller has brief and accessible text and the right balance of anatomy, physiology and clinical coverage to encourage course success. It features even more study tips, outlines, organized fact lists and self-assessment questions including;
Figure Questions – to practice interpreting illustrations.
Did You Get It? Questions – to check understanding of concepts
Critical Thinking and Clinical Application questions – to apply learning to clinical situations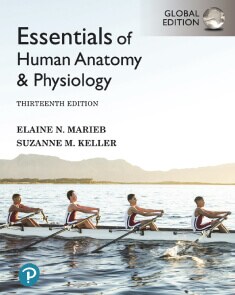 Supporting students' learning needs and your teaching style
Combined with this text, Mastering A&P's digital platform lets you create a course that supports your students' learning and is unique to your curriculum and teaching. Tools activate and engage learning while online assessments and data tell you how students are doing – helping you decide what to teach and how best to teach it – and ensuring you reach every student.
Around the world instructors use Mastering A&P to help students succeed
At University of Texas, USA two instructors used Mastering A&P to support their students in different ways. One instructor set graded homework assignments, along with Dynamic Study Modules and Adaptive Follow-Ups, to develop students' study skills and provide learning opportunities outside of class. They saw an increase in exam averages and course success rates. 
The other instructor chose to use the quizzing tools to help learners track their understanding

The second instructor's students said:
"I like Mastering because it helped me realize what I needed to study and tested me to see if I really understood what I had learned."
"I like how it helps me practice the material and shows me what I need to study more."
"I found the Dynamic Study Modules to be the most useful resource for studying." 
"The Dynamic Study Modules helped me study by giving me explanations on the questions I get wrong."