Student engagement is enhanced by revised structure of popular math text
This 6th edition of a popular math for economics textbook has lots of new and updated content.

Students will acquire the key mathematical skills needed to master and succeed in economics and enjoy enhanced engagement with popular text, Essential Mathematics for Economic Analysis (Sydsaeter, Hammond, Strom & Carvajal) thanks to the extended and revised structure of the 6th edition. New and updated content now includes:
Concave and convex functions, multiple integrals, eigenvalues and quadratic forms.
Exercises and worked examples throughout each chapter to practice skills and improve techniques.
Chapter reviews test understanding of a topic and give students confidence to progress.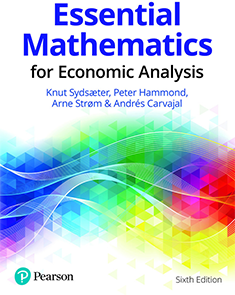 Flexible, easy course creation to fit your needs
We recognize that every course is unique. So, whether you like to build your own assignments, teach multiple sections, or set prerequisites, MyLab, the world's most popular higher education digital learning platform, gives you the flexibility to easily create your math course to fit your needs. Our online learning platform supports assessments for face-to-face, blended or remote teaching, while the personalized self-study tool pinpoints the precise areas where students need to practice.
Lecturers around the world see the Impact of providing practice with instant feedback 

An instructor at Ontario Tech University, Canada who implemented MyLab Math in her Business Math I course found it increased students' motivation (by providing instant feedback) and gave opportunities for authentic practice outside of the classroom.
She also found MyLab supported both teaching and learning in a variety of ways with features like "Help Me Solve This". It helped her reduce her administrative load too (through its automatic marking feature). Pearson representatives also impressed her with their excellent customer support.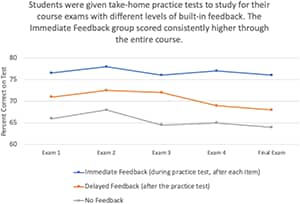 Request your sample copy today by emailing asktheHEteam.middleeast@pearson.com with the ISBN 9781292359281 and providing your contact details.
We hope that you'll choose Essential Mathematics for Economic Analysis (Sydsaeter, Hammond, Strom & Carvajal) and MyLab Math for your next course.