Revised text guides teachers to help early learners make sense of mathematics
The revised edition of Elementary and Middle School Mathematics: Teaching Developmentally explores effective methods of teaching math using hands-on, problem-based activities through:
Formative Assessment Notes – evaluating students' understanding of different content areas and assisting struggling students.

Adaptations – making tasks and activities accessible for all students including those with special needs and English learners.

Routines — teaching number sense, flexibility and mathematical practices through innovative lesson designs.

Technology Notes – ideas on the use of technology in teaching today.

Literature Connections — linking mathematics concepts with children's literature for new and interesting contexts.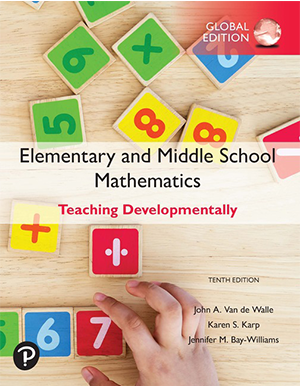 MyLab Education – Empowering you to reach every student
MyLab Education is the teaching and learning platform that offers exercises, dynamic videos, case studies and materials to help students apply and internalize their learning. Unique online tools like simulations allow them to practice and strengthen skills that prepare them for classroom observation and teaching.
Learn more about MyLab Education
Explore other Education subject texts
Request your sample copy today by emailing asktheHEteam.middleeast@pearson.com with the ISBN 9781292331393 and providing your contact details.
We hope that you'll choose Elementary and Middle School Mathematics: Teaching Developmentally and MyLab Education for your next course.