Evolving Education Delivery
by Mark Levesley
"NOW, what I want is, Facts. Teach these boys and girls nothing but Facts. Facts alone are wanted in life." These are the opening lines of Charles Dickens' Hard Times, in which schoolmaster Thomas Gradgrind outlines his educational philosophy. During the novel, Gradgrind is forced to re-consider this approach until he finally admits that "The ground on which I stand has ceased to be solid under my feet."
And that uncertainty about a teaching approach is one that many teachers now identify with. 
Over the last couple of decades, the impact of technology has revolutionised the way we teach and what we teach. Many teachers went to school when rote learning was an important facet of many subjects. Today, however, the ability to obtain 'Facts' at the touch of a button has meant that rote learning in many subjects has become less important. Many teachers trained at a time when there were no smart phones and tablets, and there was a fairly standard and limited set of resources. Today, we are surrounded by a plethora of new digital resources, which are constantly changing. And all teachers trained at a time before the COVID-19 pandemic, when physical classroom teaching was the way in which education was delivered. 
Skills
The need to learn 'Facts' and to be informed about subject material will never be lost from our educational systems. Students need to be able to remember things and develop memory strategies. They should also be aware that there is a purpose to remembering things; it allows us to put together existing ideas in new ways to invent and innovate. Many great discoveries have been made by people making new connections between ideas that they have learnt; if they had never done the learning, they would never have made those discoveries. Getting facts from the internet is easy, but the internet won't use those facts to invent and innovate (at least not at the moment, but AI may change that).
In saying all that, a primary purpose of education is to prepare students for their futures, and for most of them the ability to recall the first 20 elements of the periodic table will not be particularly helpful! Students need to develop a set of skills during their school years that will help them in their future careers. These include inter- and intrapersonal skills (working with others and independently), and a range of cognitive skills, such as being able to:
apply their knowledge
invent and innovate

solve problems

communicate effectively

evaluate

collect and analyse data

use maths confidently

So, one of the challenges for the teacher, when developing materials and activities for students, is to remember to incorporate skills development, and not just see the materials and activities as a way to deliver information that students need to learn for an exam. 
Digital classrooms
The need to suddenly move education online and out of physical school buildings, due to the COVID-19 pandemic, has proved a huge logistical challenge for many schools, and it has taken some time for robust systems to be put in place that allow students to continue with their studies. However, many schools have now successfully risen to that challenge and found ways in which a quality education can be delivered.
Different schools are using different systems to teach online, and it is not the purpose of this blog post to analyse the pros and cons of each. I will, though, make a few observations.
One of the main frustrations of trying to teach a more traditional lesson using a video conference is waiting for students to join in the call and get started. A way to avoid this is to have an engaging starter activity up and running, which students get on with as soon as they enter the call. The activity can then be stopped and discussed once the class is complete. 
Then there are the inevitable connection problems experienced by some students. Asking students to download a bank of materials that they will need for upcoming lessons, rather than handing out digital copies of materials during a lesson, can help with this. 
It may also be difficult to maintain learner discipline and engagement – on a group video call it's hard to see whether a student is actually concentrating or fiddling with a concealed phone! Breaking a lesson down into a series of smaller activities that students get on with independently (or in small groups) allows the teacher to go around the virtual classroom and check on progress. If we avoid telling students who we are going to check on and when, students are more likely to concentrate on the task at hand.
Altering the way that tasks are set is also a good way to increase student engagement. Apart from setting tasks in a live video call, activities and assignments can be set using a voice recording, using text or using a pre-recorded video. For the last of these, Screencastify can be a useful free tool (allowing you to record a part of your desktop and a video of yourself at the same time, so that you can demonstrate how something needs to be done).
We don't need to re-write our lesson plans and produce completely new materials for the digital classroom. For example, existing worksheets can be easily changed into PDFs with text boxes added, in which students type their responses.
These are only a few ideas but YouTube and Vimeo are excellent sources of information for other things that can be tried.
Eventually we will find that the ground beneath our feet starts to become a little firmer, as we continue to evolve with the technology and life starts to return to 'normal'. We will, though, all have learnt new things about teaching using technology during the pandemic, and we need to consider how we can improve future physical classroom teaching using some of our new ideas and approaches.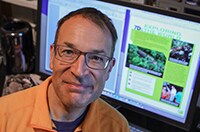 Mark Levesley is a freelance science education writer, and has authored, edited and developed science education materials for over 20 years, with a particular interest in the 11 – 16 age group. He is the series editor for Exploring Science International.