About International Connections Academy
International Connections Academy (iNaCA) is an affordable, online private school that brings a fully accredited U.S. education direct to learners all over the world.
In our virtual classrooms, more than 1,500 students work with certified teachers to reach their highest potential through uniquely individualized learning programs.
At the International Connections Academy (iNaCA), online summer school students stay engaged academically while enjoying the freedom of summer. With more than 100 different online courses to choose from, flexible start dates, and exciting courses to keep students engaged during the summer months, iNaCA's online summer school suits student's academic needs and busy summer schedules. Contact our Admissions Advisors for information about enrolling and transferring credits.Download our flyer to find out more!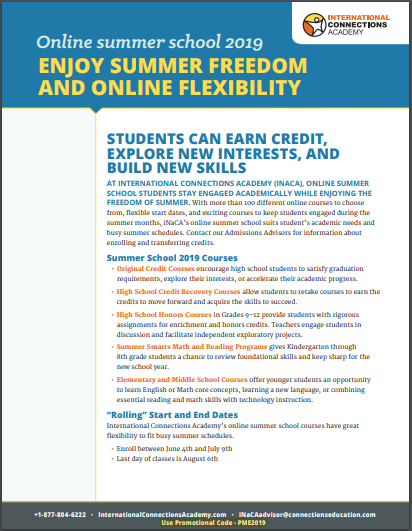 Offer Your Students a College-Level Learning Experience 
With AP®, students can take college-level courses and earn college credit, Advanced Placement®, or both, while still in high school.
If you are looking to add an AP® course at your school, or if your school would benefit from expanding its current course offering, international Connections Academy (iNaCA) provides a straightforward solution.

iNaCA offers an impressive assortment of online College Board-approved AP® courses in many subject areas.  The courses are ideal for traditional school students who wish to supplement their current learning with more challenging academics.

With flexible delivery options, students can access the content from within their usual school environment, or take the virtual classes from home.

Prepare for Academic Success in High School
iNaCA's AP® courses prepare students to take the US national AP® exams.  High scores on these tests may enable students to earn early college credit. Many four-year colleges in the United States and abroad will give students credit, advanced course placement, or both, depending on the individual college's policies.
By taking virtual Advanced Placement® courses, students demonstrate their commitment to higher education, which may give them a competitive advantage during their college application process. 
Enrolling in these demanding college-level courses also help students gain the skills and study habits they'll need to succeed in college.
How to Offer Online AP® Courses to your Students
If your students are prepared and eager for a college-level learning experience and you're looking to add AP courses at your school, contact us. 
To speak to a locally-based specialist about how online AP® Courses can complement your school's current offering, please contact us via phone or email.
Phone: +971 (0)4 457 7300 (UAE)
Email: enquiries.middleeast@pearson.com