Updated text explores how Operations Management affects society and our lives
An updated popular text is helping students explore current trends and practices in operations management today.
The new edition of Principles of Operations Management by Jay Heizer, Barry Render and Chuck Munson includes:
Video Cases – explain what goes on behind the scenes when we purchase something

OM in Action boxes – explore operations in action across different industries.

Figures and Tables – globalization, employment, world trade and product life cycle updates

Discussion Questions, Homework, Quiz and Exam Problems – from easy to challenging

Recent graduate videos – young professionals discuss their jobs in operations management and tips for success.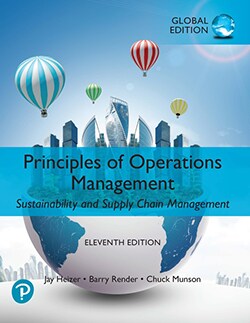 Helping students engage in decision-making and critical analysis
MyLab Operations Management helps students link course concepts to real-world applications through videos, quizzes and simulations that give instant feedback to demonstrate the impact of their choices, gauges individual performance and records results in the MyLab Gradebook. Online tutorial tools and learning aids give students the help they need, exactly when they need it.
Learn more about MyLab Operations Management
Instructors see student success with MyLab Operations Management
At Colorado Mesa University, USA
100% students earning an above average score on MyLab Operations Management homework, earned an A or B as their final course grade.
In a student survey 87% agreed that the pre-lecture assignments in MyLab helped them understand the basic concepts in the upcoming lecture.