Updated marketing text addresses latest customer engagement tools, practices and developments
The revised edition of Kotler and Armstrong's popular Principles of Marketing continues to build on the importance of customer involvement in shaping brands, and more specifically brand conversations, experiences, advocacy and community.

It offers fresh insights into real marketing practices from all-stars including Walmart, Amazon, Netflix and Apple to encourage students to explore current issues such as mobile and social marketing, ethics and financial marketing analysis. New and updated cases enable students to apply what they've learned to actual company and brand situations.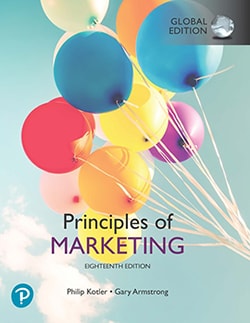 NEW: This title comes with Pearson Horizon, a digital courseware solution for optimal student engagement. Discover more about Pearson Horizon for Marketing here.
Engaging students with immersive content, tools, and experiences
Pearson Horizon brings a contemporary look and feel, and enhanced user experience both in the classroom and outside. It provides you with an easy, ready to use digital component to your course, that you students can access online and offline.
Learn more about Pearson Horizon for Marketing
Ready for a more sophisticated digital learning experience? Engage your students with My Lab Marketing's diverse range of tools including:
Mini simulations to explore how their decisions impact on a business. 
Assignments to practice their marketing metrics and analytics skills. 
Videos covering a variety of business topics (with quizzes to assess comprehension) relate to in-class theory. 
Learn more about MyLab Marketing
Instructors see consistent outcomes across course formats with MyLab Marketing
Ohio State University, USA instructors saw a positive correlation between MyLab Marketing assignment scores and MyLab quiz scores for the hybrid  (blended) and online cohorts on their marketing course. Through MyLab, students in both formats get the same course experience – earning similar homework, quiz, exam and final course grades across both course formats. In a student survey, 87% agreed that simulation assignments helped them develop important critical thinking and decision-making skills.
Average Course Assignment and Assessment Scores for Online (n=316) and Hybrid (n=249) Sections, Fall 2018 are shown in this table: 

Getting started
We hope that you'll choose Kotler and Armstrong's Principles of Marketing  and MyLab Marketing for your next course.