Updated text helps students keep pace with the fast-moving world of MIS
The new edition of this popular introductory text – Experiencing MIS – keeps students up to date with how to apply emerging technologies to organizational strategy through a range of new and updated features:

Career Guides – first-hand accounts from people working in information systems jobs.

Ethics Guides – focusing on current issues to stimulate discussion and develop problem-solving skills.

Cloud-based content – the origins and advantages of cloud-based services.

Artificial Intelligence – the impacts of AI on organizations.

Cases and scenarios – explore how businesses are affected by new technology.

Expanded features – to review learning, test critical-thinking skills and encourage active participation.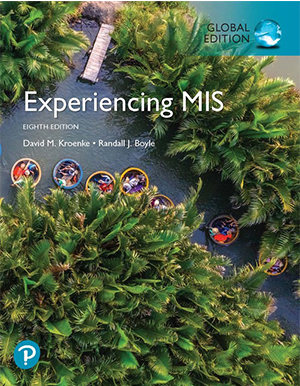 MyLab – bringing business concepts to life in the classroom
Help your students make real progress in their courses and in their lives with MyLab MIS. Our online learning program is packed with educational content that delivers personalized learning experiences and hands-on practice of the skills they will need in business.
Around the world instructors see positive outcomes with MyLab MIS
Stony Brook University, New York, USA wanted to find a digital solution to creating and grading assignments and assessments. The educator chose MyLab MIS for its chapter quizzes, simulations, videos and auto-graded writing assignments.
Results showed:
A strong connection between higher MyLab assignment scores and quiz scores.
91% of students agreed Decision-Making Sims in MyLab MIS allowed them to practice business decision-making skills and to understand the impact of their decisions.

97% of respondents agreed that their understanding of the MIS course material increased as a result of using MyLab MIS.

Explore other MIS subject texts
Request your sample copy today by emailing asktheHEteam.middleeast@pearson.com with the ISBN 9781292266985 and providing your contact details.
We hope that you'll choose Kroenke & Boyle and MyLab MIS for your next course.