Updated biology text helps embed conceptual and scientific skills for greater application
This post is about the new edition of a popular biology textbook.
Biology in Focus will help students build the key scientific skills they need for biology and increase visual literacy and understanding through new and expanded features:

NEW Figure Walkthroughs – reinforce important points through narrated explanations, figure markups and questions.

Visualizing Figures – explains how figures represent biological structures, processes and functions.

Inquiry Figures – highlights how researchers design an experiment, interpret their results and draw conclusions.

Problem-Solving Exercises – demonstrates the interrelationship and interdependence of topics across introductory biology through compelling case studies.

Scientific Skills Exercises – real data builds graphing, experimental design and math skills.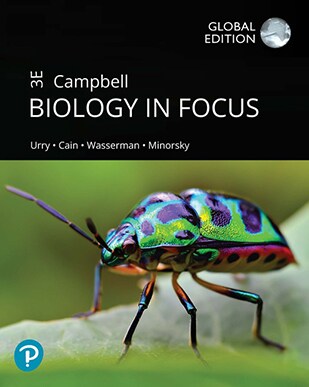 Dynamic teaching tools for before, during and after class
Mastering Biology is our online homework, tutorial and assessment program that helps biology students quickly master concepts. Self-paced tutorials with wrong-answer feedback and hints help them stay on track, while videos and animations engage students in class and reinforce concepts as assigned homework. New in Mastering Biology with this edition:
Visualizing Figure Tutorials guide students in practicing visual skills and include coaching feedback.
Visualizing the Data coaching activities encourage students to practice their data interpretation skills.

Galapagos Evolution Video Activities explore important evolution concepts and field research data, with assignable activities.

Learn more about Mastering Biology
Around the world instructors are using Mastering Biology to help students achieve higher exam averages
Santa Rosa Junior College, California used Mastering Biology to enhance their students' understanding of lecture content and engagement with class material and help them prepare for exams. Homework, relating to corresponding text chapters, was assigned after lectures. Partial credits were given for assignments completed and students could review them and redo for practice.
Key findings:
The group of students with above average Mastering scores had a higher exam average than students with at or below average Mastering scores.
Students who attempted all Mastering extra credit assignments had a significantly higher exam average than students who skipped one or more extra credit assignments.

An end-of-semester survey showed 87% of students agreed Mastering homework had helped them do better in exams.

Getting started