New edition of Hibbeler's Structural Analysis clarifies concepts for practical application
This post is about the new edition of a popular Structural Engineering textbook.
The 10th edition of this popular text introduces, clarifies and expands on the course concepts with a focus on problem-solving and practical application
Reinforcing the importance of modeling a structure so it can be used in computer analysis.
A new discussion of catenary cables.
Further clarification for drawing moment and deflection diagrams for beams and frames.
New two-color art and photorealistic illustrations representing the 3-D nature of structural engineering
Preliminary problems – simple applications of concepts that help students develop problem-solving and critical thinking skills, so they can apply theory to realistic practical situations.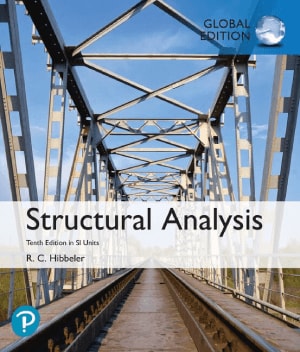 Personalize the learning experience and improve results for each student with Mastering
With Mastering Engineering – our powerful online tutorial, homework and assessment platform – you can set homework questions which guide your students through engineering concepts in multi-step problems that provide feedback specific on their errors and hints that break down the problems into smaller steps. Assignments are automatically graded so you can access one-click analysis of class and student progress. 
Learn more about Mastering Engineering 
Mastering Engineering used in a flipped classroom approach to support student success
Students at the Vanderbilt University, USA performed better on exams, which were 90 percent problems, after Mastering pre-lecture homework was implemented. The tutor used class time to address learning gaps, answer specific questions and focus on enhancing students' problem-solving abilities. Additional post-lecture homework gave students more opportunities to develop the skills needed to succeed. Students who were assigned Mastering Engineering pre-lecture homework had higher exam averages than those who were assigned only post-lecture homework.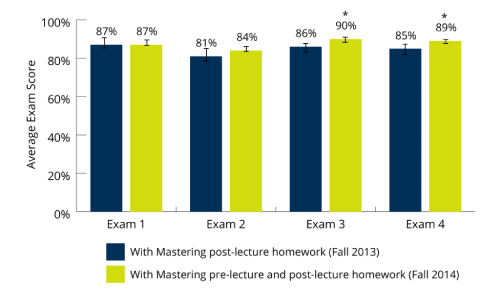 Figure 1. Average Exam Scores, Fall 2013 (n=50) and Fall 2014 (n=88); Err Bars = Stand Err; *p<.05 (Note: In Fall 2014, pre-lecture assignments were added after exam 1.)